Description
Nella versione PRO, al DexArm Luxury Kit è stato aggiunto il Rotary Module al posto del Soft Gripper, in questo modo avrete a disposizione un braccio robotico a 4 DOF. Il design dell'adattatore universale semplifica il passaggio tra pinza morbida, modulo a ventosa e modulo fai-da-te.
ATTENZIONE - Per la lista degli accessori inclusi nella confezione far riferimento al confronto tra le versioni riportato nella descrizione.
Rotrics DexArm è il primo braccio robotico desktop versatile con un'elevata ripetibilità di 0,05 mm. Progettato per creatori, designer e chiunque voglia creare cose significative sul proprio desktop! Esegui facilmente incisione e taglio laser, stampa 3D e molto altro!
Alta precisione, ripetibilità 0,05mm
Il deceleratore è il cuore di un braccio robotico, il design brevettato del loro deceleratore riduce lo spazio tra le marce, consentendo una ripetibilità estremamente elevata di 0,05 mm. Potenzia la capacità di incisione laser ad alta precisione, stampa 3D e persino applicazioni industriali leggere.
Cambio moduli in un clic
Quando si utilizzano prodotti tecnologici può essere antipatico e anche poco sicuro dover maneggiare viti e cablaggi. DexArm ci semplifica la vita in quanto è fornito di tantissimi accessori intercambiabili ed applicabili con un semplice clic, senza dover utilizzare nessuno strumento.
Software semplice e gratuito
Rotrics DexArm offre un modo intuitivo ed interattivo per controllare e realizzare le tue idee in pochi clic con il suo software dedicato. Per mantenere DexArm facile da usare, è stato integrato Blockly nel suo software, che consente di controllare il braccio robot semplicemente trascinando e posizionando i blocchi di codice.
Per i sviluppatori esperti viene fornita anche una API per controllare Rotrics DexArm in Processing, Python e G-code.
Touchscreen
Per rendere il controllo di Rotrics DexArm ancora più semplice, hanno progettato il touchscreen da 3,5 pollici che consente di controllare lo stato e comandare Rotrics DexArm all'interno della tua mano. Scarica i file del codice G sulla scheda SD e inizia a disegnare / incidere / stampare. Non è necessario continuare a connettersi al computer.
Disegno e scrittura
Con il modulo portapenne , Rotrics DexArm può scrivere una bellissima lettera scritta a mano e disegnare un'immagine artistica, portare le arti a casa tua o scrivere i compiti.
Incisione e taglio laser
Rotrics DexArm può essere facilmente trasformato in un incisore laser con il modulo di incisione laser. È in grado di incidere su legno, pelle, carta e altri materiali. Puoi fare un regalo significativo per i tuoi amici in pochi minuti.
Stampa 3D
Con l'alta precisione di DexArm, puoi stampare un oggetto 3D con il modulo di stampa 3D. Il volume di costruzione di DexArm è maggiore di 220x220x250mm, quindi puoi stampare anche un modello di grandi dimensioni.
Pick and Place
Il prelievo e il posizionamento di oggetti possono essere facilmente eseguiti con l'aiuto di una ventosa e di una pinza morbida. Perfetto per applicazioni industriali leggere.
Tech and Play
Non sai programmare? Nessun problema. Con il pulsante multifunzione sulla base o sul touchscreen, puoi trascinare il braccio e registrare i movimenti e far ripetere a DexArm i movimenti. Trascina, registra e riproduci: è semplicissimo.
Confronto tra modelli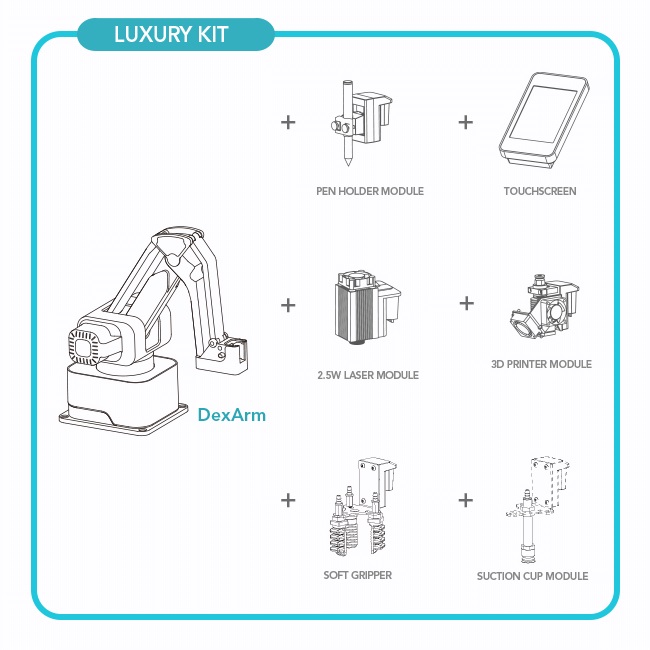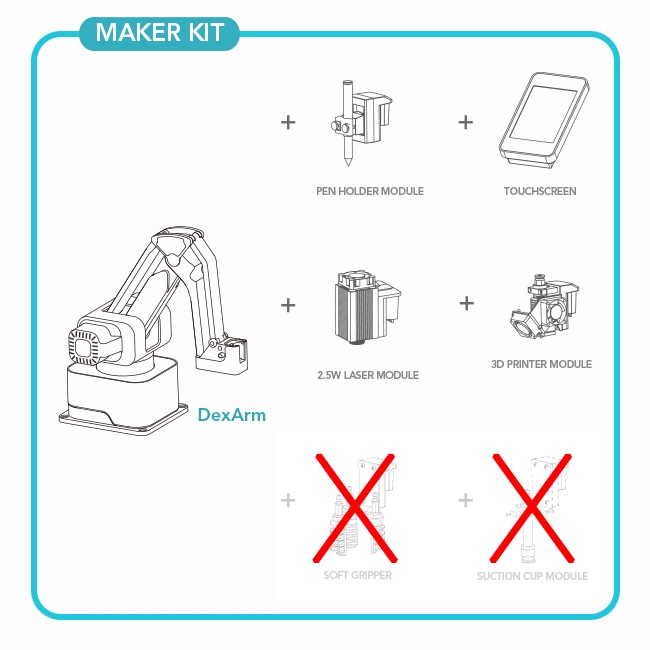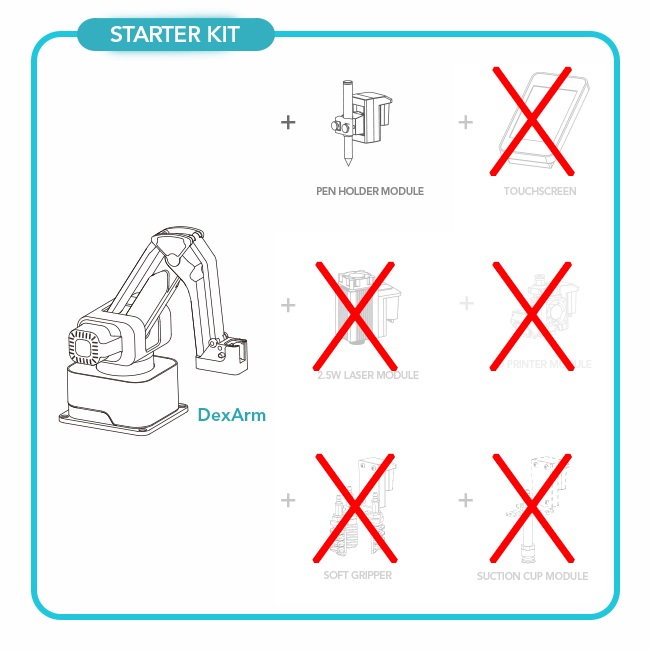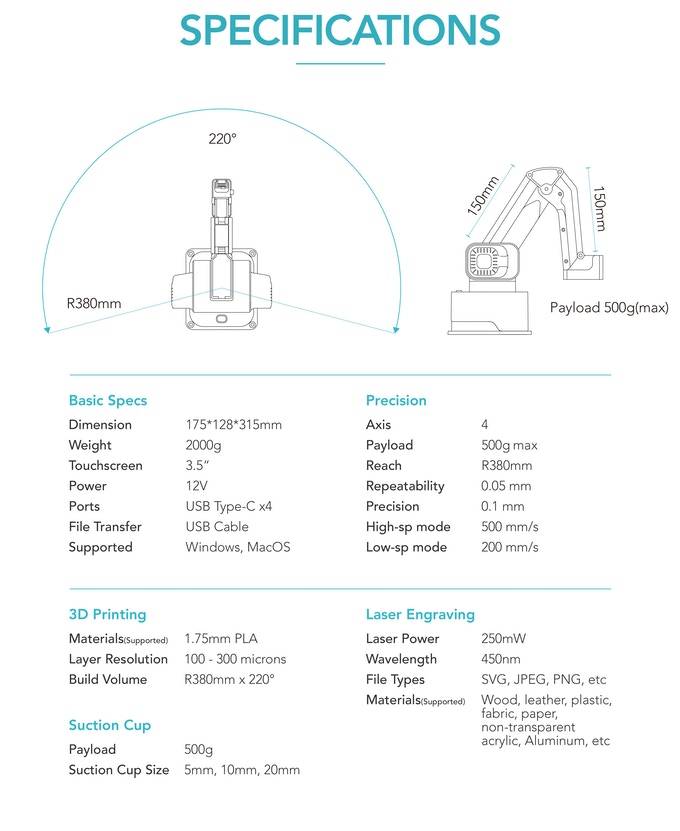 Video
Documentazione